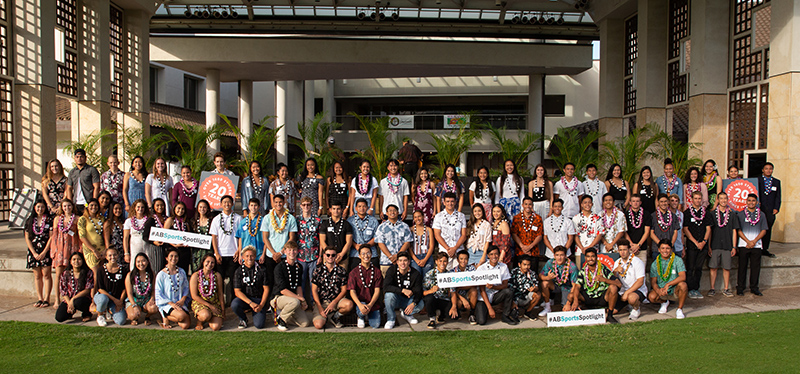 More than 1,600 Maui County student-athletes have been recognized
An honoree of Alexander & Baldwin's Sports Spotlight program — which currently is in its 20th year and has recognized more than 1,600 high school athletes, including Major League Baseball All-Star Kurt Suzuki — said that the program is "great for the kids" in how it recognizes student-athletes' growth on and off the field.
Every year, 84 students are selected by their coaches and school administrators for demonstrating what the Maui Interscholastic League Sports Spotlight program stands for — leadership, teamwork, responsibility and determination.
"I think, from experience, the best thing that (sports) teaches is just discipline, self-discipline and accountability," said Jordan Helle, Baldwin High School alumnus and 2007 Sports Spotlight honoree.
"Everything that goes into being a student athlete, of course, starts with making sure you're getting the job done," he said.
Athletes learn to compete, be part of a team, represent themselves, their schools their communities "and putting in the work to make yourself as successful as possible," said Helle, who was a star quarterback for the Bears.
"I think that's the greatest thing that I learned," he said.
Sports Spotlight was founded in 1999 by A&B in partnership with the MIL and The Maui News. The program recognizes Maui County public and private high school student athletes for their athletic performance as well as their efforts in the classroom.
Athletes get their pictures and profiles published in The Maui News and the Alexander & Baldwin Foundation donates $200 in honor of each awardee, which goes to their high school's athletic fund. At the end of each academic year, all of the Maui County honorees, along with their families and coaches, get together for the Sports Spotlight dinner reception.
Sports Spotlight has honored more than 1,600 young men and women since its inception. Donations to the MIL athletic programs have totaled more than $250,000.
Helle was honored during his senior year of high school for his work ethic as a football and basketball star, and as a student. He has continued his passion for sports through coaching, officiating and commentating for ESPN Maui AM 900 radio station and on Spectrum OC16 Sports television broadcasts.
"From what I remember, it was just really cool to get a chance to showcase and not only feature what you did athletically, but it featured some of your academic accomplishments,"he said. "From our standpoint, it was just nice to be in the spotlight and get a chance to share a little bit of how sports impacted us."
"Sports are still a very big part, and I think it's still fun to stay in that community and see the next generation of kids coming up and seeing all the hard work that they are putting in," he added. "The kids just keep getting better and better."
Tessa Munekiyo Ng, a 2002 graduate and swimmer for Baldwin, said that sports was a big part of her life growing up and being recognized by Sports Spotlight was a "nice surprise."
The mother of two added that the lessons she learned from her sport, as well as the team experience, are something she will pass down to her children.
"They are still very young. … I've started to introduce sports to them just for fun," she said.
"It's been really important for us to make sure" the children are active, not so much about how they are doing in sport, she said. The important things are "having fun, being a part of a team and making friends," she said.
Other past Sports Spotlight winners, who have extended their athletic careers beyond high school to the professional and college ranks, include:
• Suzuki, Baldwin class of 2001, who played high school and college baseball before entering the major leagues and becoming an All-Star in 2014 with the Minnesota Twins. A catcher, he is currently with the Washington Nationals.
• Keahi Rawlins, Molokai class of 2001, played baseball and volleyball in high school and baseball for the University of Hawaii before being drafted in 2002 by the Philadelphia Phillies.
• Kaimana Lee, Seabury Hall class of 2003, played volleyball in high school before continuing her career at George Washington University.
Balancing athletics and academics in high school played an important role in the lives of all Sports Spotlight winners.
"Swimming taught me a lot in terms of hard work and discipline, and time management,"Munekiyo Ng said. "I made lifelong friends in swimming, my friends today are people I spent hours and hours with in the pool.
"I really appreciate everything that swimming has allowed me to have."